Released on Universe Productions, 1992

Click on images for larger versions.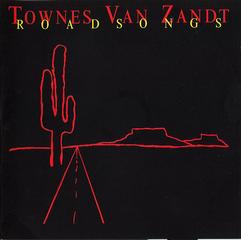 Executive Producer: Harold F. Eggers, Jr.
Recorded in famous folk clubs across America. Townes Van Zandt and his band performing pin drop live performances of cover songs that are considered timelsss and haunting. Band members Danny "Ruester" Rowland", Jimmie Gray, and Owen Cody are known as some of the best road/studio musicians. In 1995 the Road Songs album was nominated for a Nashville Nammy (Nashville's equivalent to the "Grammy"), in the category of Best Folk Album of The Year. "Dead Flowers", from the album, was featured in the soundtrack of the Cohen Brothers film The Big Lebowski.
1. ) Ira Hayes ( Peter La Forge )
2. ) Dead Flowers ( M. Jagger / K. Richards )
3. ) Automobile Blues ( Lightnin' Hopkins )
4. ) Coo Coo ( T.C. Ashley )
5. ) Fraulein ( Luther Williams )
6. ) Hello Central ( Lightnin' Hopkins )
7. ) Indian Cowboy ( Joe Ely )
8. ) Racing In The Streets ( Bruce Springsteen )
9. ) My Starter Won't Start ( Lightnin' Hopkins )
10. ) Texas River Song ( Traditional )
11. ) Wabash Cannonball ( A.P. Carter )
12. ) Short-Haired Woman Blues ( Lightnin' Hopkins )
13. ) Man Gave Names To All The Animals ( Bob Dylan )
14. ) Little Willie The Gambler ( Bob Dylan )
15. ) Cocaine Blues ( Traditional )